In different factories and warehouses, a huge amount of items needs to be moved from one place to another. In this regard, plastic totes and bins happen to be the most effective means for transporting as well as holding materials. It is precisely the reason why the use of plastic totes and bins has become so much popular. Let us understand plastic totes and bins in a bit detailed manner.
Plastic totes and bins are different types of containers used for the storage, handling, as well as transportation of parts & materials.
1) What are plastic totes?
Totes are box-type and portable industrial storage products that can be collapsed as per requirements to conserve space when they are not in use. Some totes come with hinged or removable tops for providing easy access.
2) What are plastic bins?
Bins are containers that come with a semi-opened end so that the users can very easily remove the inner contents without moving the bins from their position on a shelf or rack. The built-in opening in the bins is for the purpose of exposing and accessing the inner contents is what differentiates a bin from a tote.
3) Features of Plastic Totes and Bins
Totes and bins are designed for heavy-duty use. Both of these storage containers are available in a wide range of shapes and sizes to meet the varied storage requirements in the best possible way.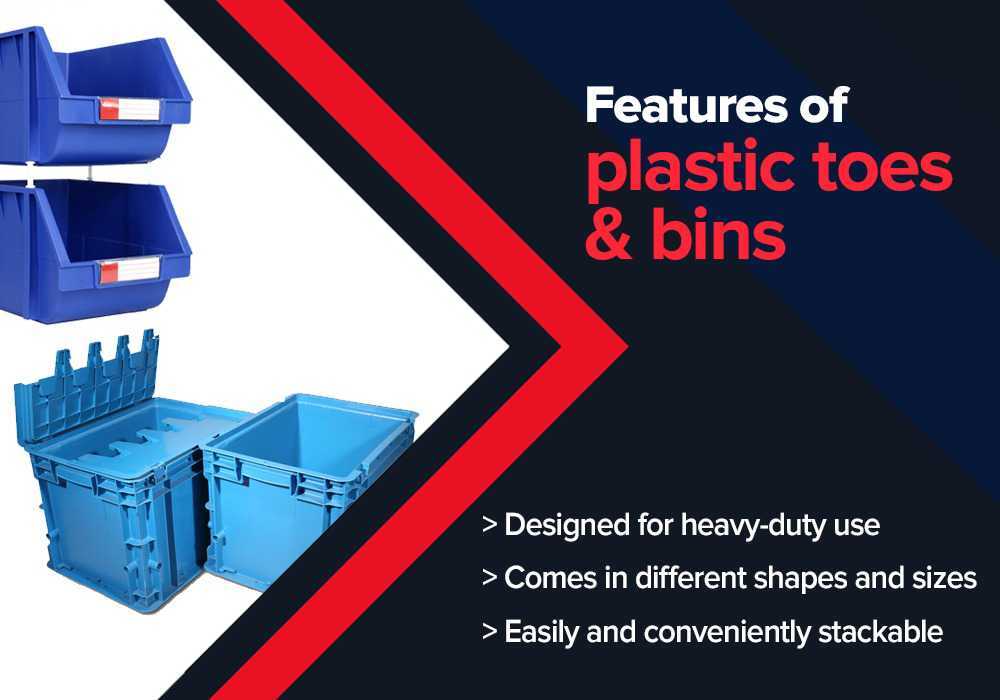 Plastic Totes
Some important features of totes are as follows.
They are box-type containers
Can be collapsed with ease
Very little storage space required when not in use
Many totes come equipped with molded-in legs
Totes that are smaller are easily stackable
Totes that are larger have casters, entries, or openings for easy use with pallet jackets
They are insulated and recyclable
Plastic Bins
A few major features of bins are listed below
They are semi-open in nature
Bins are very easily accessible since they are semi-open
Bins are non-collapsible
Storage space required is more as compared to totes
Bins cannot be stacked with ease
They offer good insulation and protection to the inner contents
4) Types of Totes and Bins
Let us learn about the different types of plastic totes and bins commonly available in the market.
There are four common types of plastic totes available.
Bulk Totes – These totes are resistant to eroding, warping, rusting, and splintering. Hence these totes are best suited for a wide array of food and material handling applications.
Insulated Totes – Insulated totes, as can be understood from the name, offers insulation and hence are suitable for providing temperature control and protection. They come in a variety of shapes and sizes for varied applications.
Collapsible Totes – These types of totes are available as either vented or solid and are often used in the material handling business. They are advantageous for their collapsible walls and when not in use can be simply collapsed to save storage space.
Hand-Held Totes – Hand-held totes are very easily stackable and nestable for optimizing the storage space. These totes find great applications in different businesses and industries
Plastic bins are primarily of two different types.
Storage Bins – These bins are used for storing a wide range of small items that need to be kept separately. Storing items in the storage bins make sure that they can be easily found when needed.
Container Type Bins – The container type bins are ideally suited to store larger and bulkier items such as scrap metal, gravel, broken glass, bricks, garbage, recyclables, etc. Coming in the form of a container, it prevents the inner contents from falling out.
5) Use of Plastic Totes and Bins
Both plastic totes and bins find a wide range of applications. Plastic totes and bins can be used interchangeably but each of them is suitable for some specific uses. Let us understand the specific use of plastic totes and bins.
Totes – Totes can also be used in the food industry to store fresh or frozen foods. They are also suitable in the electronic and pharmaceutical industries.
Bins – The bins are best suited for storing different parts of engines, safety gear, tools, tape rolls, fasteners, and a range of other similar items. Bins are readily used in garages, workshops, and automotive repair stations where there is a need to separately store various small items.
Direct your queries and requirements of plastic bins and totes to us at – sales@spacerack.ae
6) Benefits of Using Plastic Totes and Bins
Though plastic bins and totes have differences in their features as well as characteristics, they have mostly similar benefits that are listed below.
Very easy and quick to install as well as use. 
Extremely cost-effective in nature since these help save money by bringing about a reduction in the supply chain cost.
The totes and bins are of great help in separately storing a wide array of small items such as nuts, bolts, screws, and a number of others.
Both plastic totes and bins offer safe storage solutions but can be very easily accessed at the time of need.
These storage items have the ability to save a huge amount of space since they can be stored over one another. Moreover, the empty containers can be nested inside one another, thereby saving a considerable amount of space when not in use.
The plastic totes and bins are friendly to the environment since they do not contribute to pollution along with offering a high amount of sustainability.
Both of them offer a long-term storage solution which is quite advantageous.
7) How Does Space Rack Help?
Space Rack takes pride in being of the leading names in providing a wide range of racking and shelving solutions along with several storage accessories. It is to make sure to meet the varied needs and requirements of users belonging to different industries. Space Rack provides the users with premium quality plastic totes and bins in the UAE satisfying their needs in the best possible manner without giving any one of them even a single chance to complain. We, at Space Rack, offer complete solutions starting from planning, design, to manufacturing and installation. It becomes quite easy and convenient for the users since they get a complete package of storage solutions under a single roof. 
Space Rack offers a custom design which plays a significant role in appropriately meeting the specific needs of every user in the best possible manner. Moreover, Space Rack makes use of premium quality materials for manufacturing the items and hence assures every user of uncompromised quality. With high-end products from Space Rack, the purpose is ideally served, thereby satisfying each of the users to the fullest. Thus, whenever you are looking forward to getting the best quality plastic totes and bins, no other option would be as good as Space Rack in this regard. Call us today to know more about our offerings.