Mesh Partitions & Cages - Design and Installation
When are Mesh Partitions and Cages Ideally Suited?
Mesh partitions and cages are physical barriers or guards for separating people from safety as well as security risks. Mesh partitions and cages are usually made up of steel that provides the users with a clear, as well as unobstructed views. They also allow easy passage of light, air, and fire suppression systems along with maintaining their structural purposes in the best possible manner. The mesh partitions and cages are ideally suited in the following cases.
Mesh partitions and cages can be used to safeguard machinery, conveyors, vertical lift enclosures, and many more.
These cages are ideal for locking up valuable files, inventory, supplies, tools, merchandise, electrical units, and several others.
Mesh partitions and cages are also suitable to enclose servers, networking equipment, nodes in data centers, and a lot more.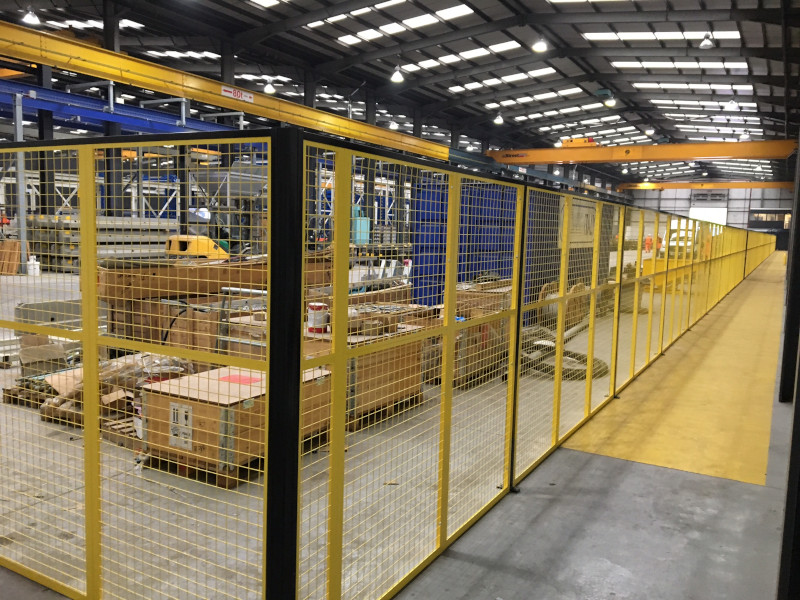 Features of Mesh Partitions and Cages
The distinguishing features of mesh partitions and cages are as listed below.
Offers safety and security to the inner contents
Easily customisable as per the needs and requirements
Comes with lockable doors
Can act as additional features to cantilever racking, pallet racking, or mezzanines
Benefits of Mesh Partitions and Cages
The benefits of using mesh partitions and cages are as follows.
Allows light and air to pass through the mesh
Easy and quick to install
Acts as a cost effective partitioning system
Allows easy visibility through the mesh
Ready to speak to a Storage Solution Expert?
Full Warehouse Solutions - From Planning to Delivery
Custom Design
We can visit, measure up and create a custom warehouse plan for free.
Racking Maintenance
We can replace any damaged non-compliant racking components.
Installation
Our in house team can install racking or shelving for any size warehouse.
Racking Inspections
We visit, inspect and provide a comprehensive report.
Safety Audits
We identify warehouse safety issues and provide an actionable report.
Relocation
We can help you plan and navigate the complexities of relocating.